Online fine art and photography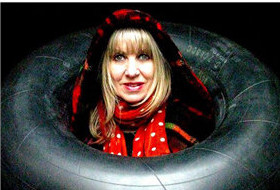 Snapshot moments remain, prompted by an emotion, colour, shape, a sound. Adding collage to the repertoire , brings another dimension to my work.
Before becoming a full time artist, I worked in the music industry, managing talent including Eurythmics, Shakespeare's Sister and Londonbeat. Since then I have spent timestudying the body; through yoga, pilates and Iaido, a practice that helps develop freedom of mind and body. Through strict discipline I am learning to keep the mind fluid and loosen the confines of outer reality. I believe painting can alter our mood and open a dialogue with the unconscious mind. The viewer responds from a deep place or moves on. It's all alright.
For me, creating and viewing Art is about letting go, abandoning restraint and just being in the moment.
Sandra Turnbull 2011
Comfort to the soul, Inspiration to the senses, sustenance from one moment to the next, – these are the morsels we all crave. Takashimaya
2013 Elvis – I Love You Because at The A Side B Side Gallery, London E8  Curator Harry Pye
2013 Mothers – The Other Art Fair London
2013 NoLo Gallery     Beautiful on Line Fine Art Gallery  Established 2011
2012 Open Studios Chocolate Factory
2011 Buddha Series . Prints on Show. Coffee Circus Crouch End London N8 thru November
2011 OPEN STUDIOS  Chocolate Factory Wood Green N22  November 11th PV  November 12/13th  12-6pm
2010 Open Studio  Chocolate Factory,Clarendon Road, London N22 UK. November
2010 Leicester Square Theatre . The Basement  . Snapshots Series; Permanent work on show . London UK
2010 BRICK March 12th – 21st The Gallery in Redchurch St  London UK Group Show
2009 Open Studio  Chocolate Factory,Clarendon Road, London N22 UK. November
2009 BAG '09  May through June Barcelona . Gay Art . Group Show. http://barcelonaartgay.blogspot.com/
2008 Open Studio at the  Chocolate Factory, Clarendon Road, London N22 UK.
2008 All About Eve Desig Gallery Barcelona Spain June – July    2008 One Woman Show
2008 All About Eve Novas Gallery Camden London Feb – March  2008 One Woman Show
A varied collection from Sandra Turnbull's works. Themes cover Buddhism, dance and erotica. Price on application.
Copyright Nolo Gallery 2015